Souvenirs
Get to know some of the most representative souvenirs of the Sveta Nedelja producers, who have nurtured the traditions of this region in their workshops by making unique items. Souvenirs may also be purchased directly from the producers.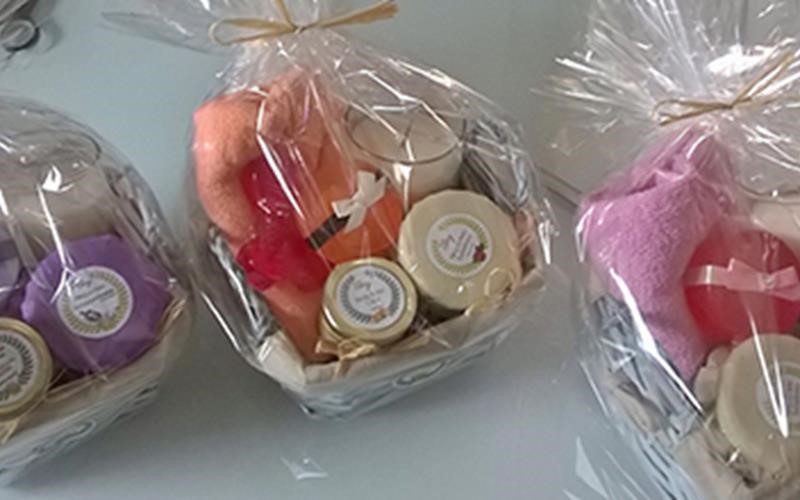 The Sveta Nedelja kraluž was a lavish, woven, woman's necklace that appeared in the Sveta Nedelja area in the early 19th century. Since then, it has been a part of the jewellery of the formal women's folk costume. It is worn next to the neck on a white folded lace collar, to further enhance the beauty of its colour and ornamentation. Strings of glass or coral beads on a base of eight strings or strands of horsehair, or today plastic strands, resulted in complex creations.
The kraluž can be made of different colours, and is most often found in the tricolour red, white and blue, or only red and white with ornamental beads. The ends of the kraluž are tied around the neck with a red, satin ribbon.
The distinctiveness of the kraluž is not only in its beaded beauty, but also in that it marks the stage of life of the girl or woman wearing it.
The technique and art of making the Sveta Nedelja kraluž was recently entered into the Register of protected intangible cultural heritage of the Republic of Croatia by the Ministry of Culture, making the kraluž a Croatian souvenir, and not just a souvenir of Sveta Nedelja.
Contact:
Kragulj Association for the conservation of Croatian cultural heritage
Marijana Stilinovića 7, Sveta Nedelja
10431 Sveta Nedelja
E-mail: udruga.kragulj@gmail.com
Web: www.udrugakragulj.bloger.hr
Contact person: Iris Otmačić, chairperson
+385 (91) 5417 385
Secretary: Josipa Regvat
Mob: +385 (91) 5255 948
E-mail: udruga.kragulj@gmail.com

The association also organises kraluž making workshops, and other handicrafts

"Street of Dreams" - personalised journals, passport covers, day planners and notebooks
Original and interesting personalised souvenirs and products by young female entrepreneur Magdalena Bešker - My planner, My notebook, My journal, My pen, My passport cover, My travel log
Interesting and original products are handmade souvenirs, and can be personalised according to the customer's wishes and needs.
A palette of more than 40 colours is available, with various means of personalisation (name, slogan, favourite citation, etc.).
These interesting products will soon be found at sales locations at Croatian airports and souvenir shops, and can also be obtained online.
Contact:
Ulica snova d.o.o.
Rakitje, Loza 22
Sveta Nedelja, Hrvatska
E-mail: info@ulicasnova.hr
www.ulicasnova.hr
"Fragrance of nature" - natural cosmetics and gift programme
"Fragrance of nature" is a small company that makes handmade natural cosmetics, primarily soaps, on a base of oils and glycerine, natural salves, and body butter.
The company also makes handmade painted stone magnets and paintings.
Various oils of proven origin are used in production, such as olive oil, almond oil, castor oil, palm oil, and other natural ingredients, such as dried plants, macerates, hydrolats, plant glycerine, butters (shea, coconut, cocoa), aloe vera gel, unrefined beeswax, honey and other carefully selected ingredients.

All products are made in small batches, to ensure their quality, safety and originality.
PRODUCTS:
Natural cosmetics
soaps
lip balm
hand and body salves
sugar peels
Magnets
Gift packages
Paintings
Contact:
Miris prirode j.d.o.o.
Contact: Ivana Koškanac
Tel: 01 3877 281
Mob: 095 9137 912
mprirode@gmail.com
Ceramic garlic containers
It is well known that garlic is best kept in ceramics. Each container is unique.
The ceramic garlic containers are handmade on a potter's wheel, and painted in a variety of colours using ceramic paint. The paints and glazes used are completely safe. Before baking at 960 degrees Celsius, the containers are carved and perforated to permit air circulation, and the lid is specially designed. After drying, the containers are baked once, and then glazed before the second baking at 980 degrees. The finished container is decorative, functional and fits well into the kitchen as a useful object. The winning combination is the ceramic container with air holes, to ensure the best keeping conditions for garlic. Each container is unique.
Contact:
Artist: Sonja Brzak
Address: Orešje, Selčica
Tel: + 385 (98) 218853
Homemade spirits and liqueurs
The Majnarić family farms produces about 30 different kinds of spirits and liqueurs from fruits and herbs grown on the farm.
The Majnarić family farms produces about 30 different kids of spirits and liqueurs from fruits and herbs grown on the farm.
Some include: Sveta Nedelja tears spirit, Sveta Nedelja smile spirit and Sveta Nedelja fairy liqueur

Contact:
Zvonimir Majnarić family farm
Description: production of homemade spirits, liqueurs, blackberry wine
Sveta Nedelja, Vinogradska 1
10 431 Sveta Nedelja
Tel.: +385 (1) 3370 778
Mob: +385 (98) 486 477